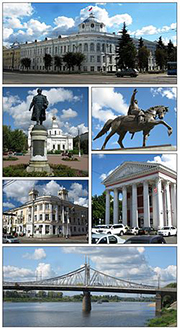 The International Geography Olympiad (iGeo) is a competition for the best 16 to 19 year old geography students from all over the world. Four students represent each country in a series of Geography tests in (generally) a four-five day program. An adult Team leader and International Board Member accompany each national team. The official language of the iGeo is English.
The 12th International Geography Olympiad will be held in Tver, Russia, from 11 to 17 August 2015, under the auspices of the International Geographical Union Olympiad Task Force. The venue of the Olympiad will be "Computeria", a youth recreation and educational centre in Tver oblast, Central Russia, 200km from Moscow.
The Olympiad is an excellent opportunity to showcase the geographical skills and understandings of a country's geography students, as well as a reward for student excellence. The participants will have the opportunity to visit some of the most interesting and attractive places in Southern Poland as well as immerse themselves in the fascinating history and culture of Kraków and its surroundings.
This website contains information on iGeo's statutes and the component tests, as well as information on the forthcoming and previous iGeos. Examples of past questions can be found via the webpage on the relevant iGeo.
IGeos are overseen by the International Geographical Union Olympiad Task Force. We particularly welcome queries from organisations that are considering entering a future iGeo.
Future iGeo's
2015: Tver Region, Russia
2016: Beijing, China