The 1996 iGeo - The Hague, The Netherlands
"Flowers"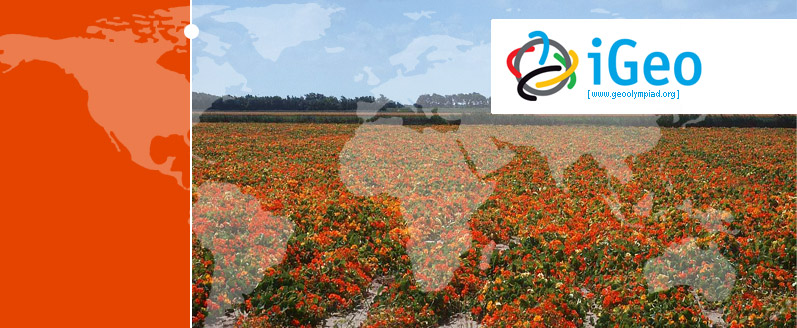 This collection of materials of the first International Geography Competition (recently called International Geography Olympiad) is the result of an adventure: an expedition into unknown territory. The idea for this expedition came from colleagues in and around the Commission on Geographical Education of the International Geographical Union. The 28th Geographical Congress of IGU in The Hague, Netherlands, in August 1996 seemed a good moment to carry out this international educational endeavour.
If one does something that has not been done before, it is hard to estimate the workload and the difficulties that lie ahead. Nevertheless, we readily found geographers in education, the commercial sector and in government willing to join or assist us in this experiment. Colleagues from Belgium, Poland, Germany and Slovenia were willing to join us in developing a format for an international olympiad in Geography. Each and every one contributed to the success of the first International Geography Competition, in spite of the inevitable surprises and difficulties that we encountered during the exploration and mapping out of this new frontier.
We were not unprepared when we embarked on this journey. We drew on the experiences of the national olympiads in geography in the Netherlands and in Poland. We also looked at the organisation and procedures of international olympiads for other school subjects, especially for Informatics, Biology and Chemistry, to see how they fared. This enabled us to chart out a save course for our expedition.
During the evaluation meeting at the end of IGC'96 we concluded that an international geography olympiad for secondary education is feasible. We advised the IGU to continue the project on a bi annual basis. The simultaneous organisation of the IGC and the IGU Congress has turned out to be a good formula. We believe that the IGC can make a valuable contribution to the international discussion about the geography curriculum in secondary education and in teacher training. These aspects need to be explored and developed more.
So, more expeditions are needed in the future to further explore the new found land. We hope that the results of this project provides a solid basis for others to build on in the years to come. The organisers of IGC'96 wish them all the success in the world.
Henk Ankoné
Chairperson of the Organising Committee of ICC'96
Download the:
Multimedia Test
Multimedia Test Questions
Multimedia Test Answers
Written Test
Fieldwork
Results
First prize and overall winner was mr. Steven Pattheeuws from Belgium.
There were three participants with a final score of 72. This three way tie was broken by eliminating the participant with the lowest score for the written test; the second and the third prize were awarded on the basis of the score for the fieldwork.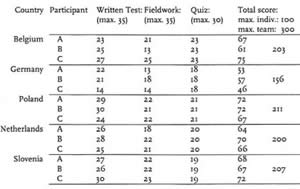 The second prize was awarded to mr. Boris VOLARIC From Slovenia. The third prize went to mr. Krzysztof ROSENKIEWICZ from Poland.
The best team was the team from Poland, followed by the teams from Slovenia and Belgium.