The 2022 iGeo - Paris, France
Paris, the city of Lights, is home to living cultural, historical, educational, and scientific heritage. Being one of the most visited cities in the world, the cosmopolitan French capital arouses people's imagination from its numerous iconic monuments (Tour Eiffel, Sacré-Coeur, Moulin Rouge, le Louvre, etc.) to its romantic image. Throughout the city, which its famous river, la Seine, runs through, one can observe both the fascinating history in the urban landscape and architecture, and the modernisation in the city in order for it to be at the forefront of the various world challenges and to welcome international events (for instance, the International Car Show in 2022, the Rugby World Cup in 2023, and the Olympic Games in 2024). From the top of Montmartre to the bottom of the catacombs, Paris has a lot to offer to all of its visitors.
The 18TH INTERNATIONAL GEOGRAPHY OLYMPIAD was held online from July 12th to 18th, 2022. It was hosted by the Local Organising Committee in Paris, France, led by Alexis Alamel.
Downloads
Participation: 54 teams, 209 students, 105 team leaders
Results
Gold Medals

1. Sanzhar Khamitov - Republic of Kazakhstan
2. Kang Zheng Wong - Singapore
3. Aarne Heikkilä - Finland
4. Ching Hang Wong - China - Hong Kong
5. Mikita Vikharau - Belarus
6. Marcus Lee - Singapore
7. Po-Hui Yeh - Taiwan (China-Taipei)
8. Kittitach Rattanawannachai - Thailand
9. Kangzhan Wang - China - Beijing
10. Lucy Schwarz - Australia
11. Brian Lee - Singapore
12. Max Yang - United States of America
13. Radu Andrei Bradateanu - Romania
14. Daniel Nicolae Hanganu - Romania
15. Ugnius Žagarys - Lithuania
15. Pijus Mačiulis - Lithuania
17. Fachri Aziz - Indonesia
18. Matthew Woodward - Canada

Team Ranking(By Score)
1. Singapore
2. Lithuania
3. Taiwan (China-Taipei)
4. Indonesia
5. Poland
6. Romania
7. Thailand
8. United States of America
9. China - Hong Kong
10. Hungary

Team Ranking (By Medal)
| | | | |
| --- | --- | --- | --- |
| Singapore | 3 | 1 | 0 |
| Lithuania | 2 | 2 | 0 |
| Romania | 2 | 1 | 1 |
| Taiwan (China-Taipei) | 1 | 3 | 0 |
| Indonesia | 1 | 2 | 1 |
| Thailand | 1 | 2 | 1 |
| USA | 1 | 2 | 0 |
| Finland | 1 | 1 | 1 |
| China-Hong Kong | 1 | 0 | 3 |
| Canada | 1 | 0 | 2 |
G-Gold,S-Silver,B-Bronze
Poster Winners

| | |
| --- | --- |
| 1 | Indonesia |
| 2 | Tunisia |
| 3 | Philippine |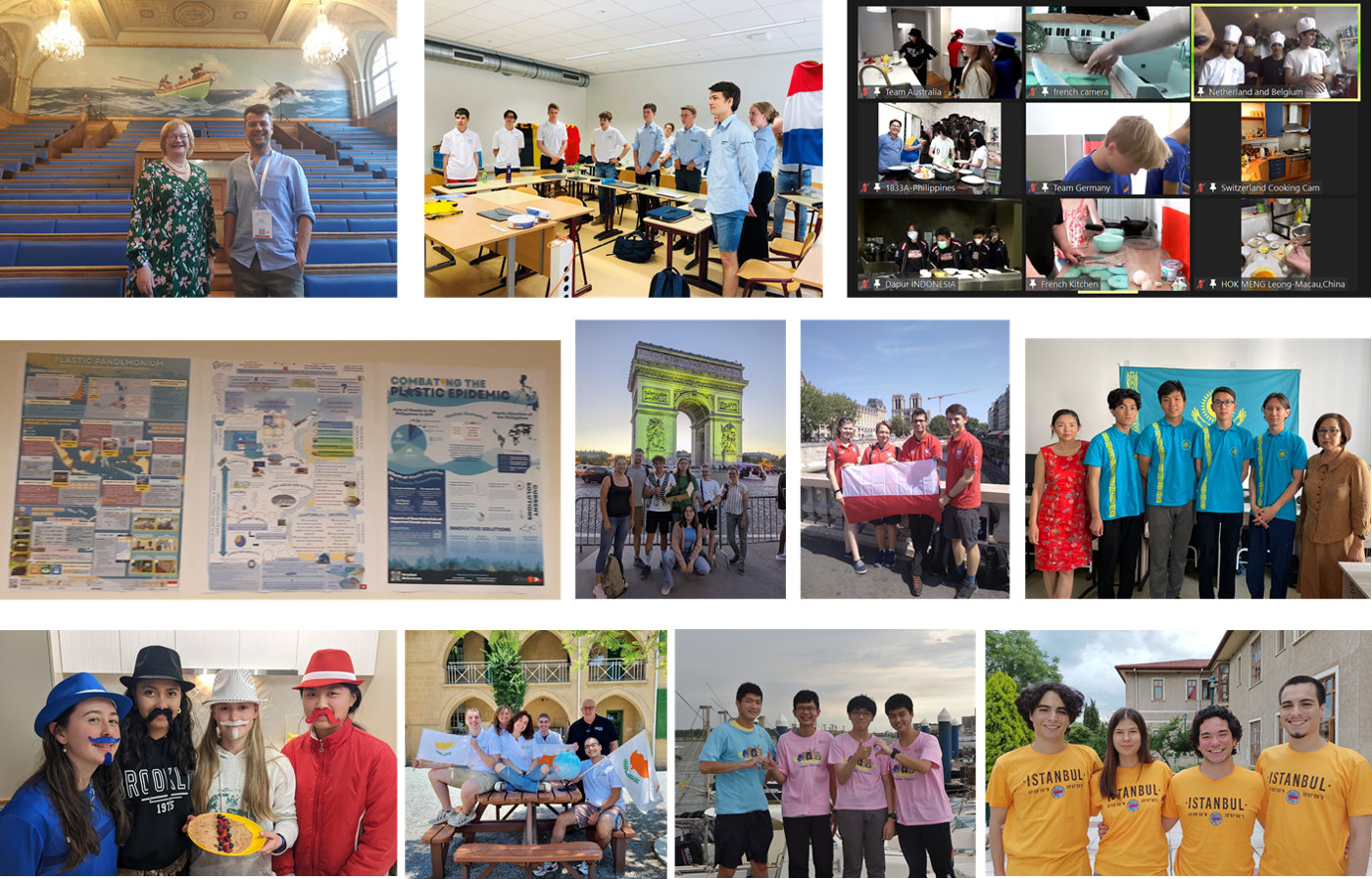 iGeo 2022 Local Organising Committee:
Alexis Alamel, CNFG International Event Coordinator, Associate Professor, Sciences Po Rennes (Chair, General Coordinator)
Amaël Cattaruzza, CNFG President, Professor, Université Paris 8 (General Coordinator)
Antoine Le Blanc, Former CNFG President, IGU Congress General Coordinator, Professor, Université du Littoral Côte d'Opale (General Coordinator)
Angélina Jean, Vice President, Turkish Geographical Society (Volunteer Organizer)
Jérémy Innebeer, Urban Planner, Dunkerque (Events Coordinator)
Adrien Baysse-Lainé, CNFG Treasurer, CNRS Researcher, Université Grenoble Alpes (Treasurer)
Nathalie Lemarchand, IGU Congress General Coordinator, Professor, Université Paris 8 (Liaison Coordinator IGU Congress)