The 2013 iGeo - Kyoto, Japan
"Kyoto has a population of 1.5 million and was the imperial capital of Japan for more than 1000 years. With temples, parks, bustling business districts, markets, and tightly-packed residential neighborhoods, Kyoto is one of the most attractive Asian metropolises".
Golden Temple, Kyoto; 'medium' size Creative Commons Credit, Bill MacIntyre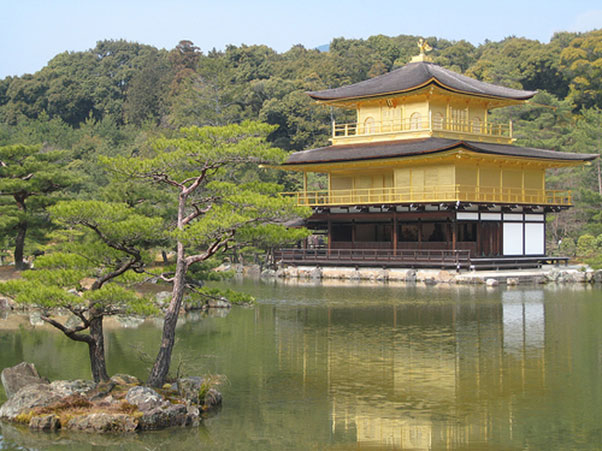 The 2013 iGeo was held in Kyoto, from 30 July to 5 August 2013, under the auspices of the International Geographical Union Olympiad Task Force. The Local Organising Committee hosted the Olympiad in the Heian-no-mori Hotel in the North and East of Kyoto, near the Silver Temple and the terminus of the fascinating Biwa Canal. The Gold medals were presented in the opening ceremony of the IGU at the Kyoto International Conference Centre.
The iGeo competition contained three elements: a written response test, a multimedia test and a fieldwork test. The fieldwork was done in Fushimi, an urban community of 280,000 people in the Southeast of Kyoto. Historically, Fushimi used high quality ground water in saké production. The production of sake was supported by excellent water transport options for Fushimi, Kyoto's principal inland port. In recent years flood hazard has affected the community, and consideration of this issue was also part of the Fieldwork exercise.
Led by Professor Yoshiyasu Ida, the Local Organising Committee provided a wonderful atmosphere and a testing set of experiences for young geographers from 31 countries. The tests were complemented by cultural and social activities, local trips to explore the city, and a one-day sight-seeing excursion.
Downloads
Multimedia Test
Multimedia Test answers
Fieldwork Resource Booklet
Fieldwork Assessment Guide
Fieldwork Marking Schedule
Written Response Resource Booklet
Written Response Question and Answer Booklet
Written Response Marking Schedule
Results
Gold medals
1. Daniel Wong - Singapore
2. Andreea Manea - Romania
3. Maris Serzans - Latvia
4. Sarah Naco - Australia
5. Mislav Glibo - Croatia
6. Theodore-Adrian Ivan - Romania
7. Petra Pajtak - Croatia
8. Ian Teo - Singapore
9. Andres Fernandez Macias - Mexico
10. Jakub Konecny - Slovakia
11. Andra Albulescu - Romania
Top 10 Countries
1. Romania
2. Coratia
3. Singapore
4. Australia
5. Poland
6. Slovakia
7. Estonia
8. Indonesia
9. Hungary
10. Slovenia